It's been a bit of a gap between the third edition and this one, but oh well!
---
A PEP Hurricane Warning?
Guam's EAS is quite…interesting. Recently, SOMEBODY issued a Hurricane Warning, but it was issued as "Primary Entry Point" (PEP). We've never really seen anything like this. Do you consider it to be an incorrect event code, or some other issue?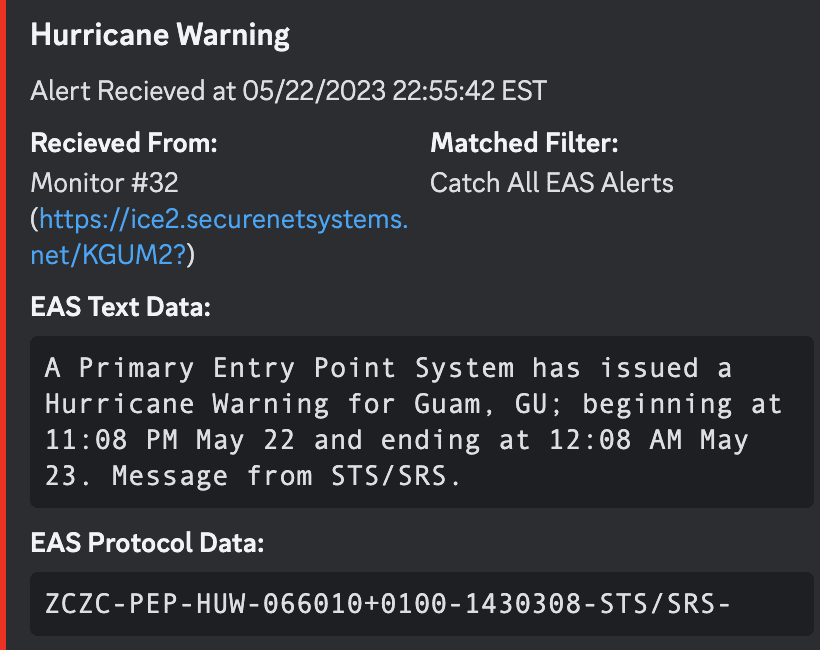 ---
Rev96
SAGE Alerting Systems is introducing/releasing Rev96 in a few weeks. This update introduces a system that prioritizes CAP alerts over alerts received over the air (Monitors 1-6). There are additional updates for mail and conformance, but there are likely other system upgrades that have been unannounced.
We purchased the Rev96 upgrade ($150) – We will review this in a future post!
---
2023 NPT
We still don't know…
---
Random alert confirmation moment
WCEI/WINX in Maryland relayed a 911 Telephone Outage Emergency for Caroline, MD
---
WTOP – Why do we trust them?
Every month, WTOP sends a Required Monthly Test for the DC area, and almost every month, it fails. DC government agencies have shown competency to issue an iPAWS alert, when they issued an AMBER Alert a while back. So the question is, why can't the DC region use iPAWS for their test (CIV) instead of WTOP (EAS)? Maryland and Virginia already use similar systems to test EAS.
It is possible that a requirement should/will be presented that requires all monthly tests to originate with iPAWS, and it should happen, but not always.
---
One final thing…
There are proposed WEA improvements for multi-language and image support. See the full release here.
---